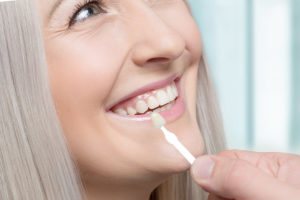 If your teeth are chipped, discolored, stained, or even crooked, a fantastic smile is still within reach. Dental veneers are an ideal choice for those with healthy teeth and gums who want to improve the look of their smile. There's no need to feel self-conscious. Instead, the cosmetic dentistry services at Lovett Dental Jersey Village in Northwest Houston can give you the smile of your dreams. If you're looking for dental veneers in TX, our specialists can give you a brand-new lease on life.
If you're interested in dental veneers, then turn to Lovett Dental Jersey Village at any time. We're a local practice that gives patients all sorts of choices in cosmetic dentistry treatments; it just depends on where you'd like to see improvement. Some examples of procedures we offer include:
Connect with our team at 281-890-5002 or reach out online if you're ready to learn more or schedule an appointment.
The Best Options for Dental Veneers
Most people long to have pearly whites so that they can laugh and smile without a care. Some of the issues that dental veneers can correct include:
Gaps in a smile
Misshapen teeth
Discolored or stained teeth
Chipped teeth
However, dental veneers don't just fix shape and color. They can aid those with teeth that are too far apart or teeth that have noticeable alignment issues as well.
If you are uncomfortable with your teeth's appearance, you might not smile as big, or you may talk stiffly to keep your teeth covered. This stress is a heavy burden to carry even after you get used to habits like these. When you need dental veneers to improve your smile, we're the practice that can help you best. Our dental veneers can give your physical appearance and self-confidence levels a major boost since a lot of energy goes into self-consciously holding back your smile. Confidence in a perfect, healthy smile can improve your interpersonal relationships and help you enjoy life to the fullest.
Dental Veneers at Lovett Dental Jersey Village
Lovett Dental Jersey Village is ready to help you explore your options for dental veneer services. Our staff is composed of professionals who have comprehensive cosmetic dentistry proficiency. If you want to know about dental veneers and the issues that they can help you fix, all you must do is speak with our team members. They're more than happy to accommodate all your information requests.
Our office also has a bright and welcoming atmosphere. You will always feel one hundred percent at home. Our dentists and assistants make use of all the most advanced and sophisticated cosmetic dentistry tools and devices out there. We understand that many individuals experience anxiety leading up to appointments at the dentist, and we work hard to make every patient as comfortable as possible.
How Dental Veneers Can Give You a Beautiful Smile
If you decide to get dental veneers, you might be surprised at how low-maintenance and durable they are, as well as how simple the process of placing them can be. The gums do not generally have adverse reactions to veneers. In fact, they tend to accommodate them wonderfully. Dental veneers do not have conspicuous appearances, either. Not only do they look and feel natural, but we'll work with you to find the right shade of white to complement your mouth. Also, those who love coffee or tea will be happy to know that dental veneers are stain-resistant; care for them like you would your natural teeth, and you'll have beautifully stain-free teeth for years to come.
Getting new dental veneers ready generally isn't a time-consuming or taxing process for anyone. It doesn't often call for significant shaping work. They're totally different than dental crowns in that way. If you want to invest in the appearance of your mouth without having to deal with frustration and unpredictability, then dental veneers may be the ideal route for you.
Reach Out to Lovett Dental Jersey Village Today for Cosmetic Dentistry Services
Cosmetic dentistry can be the solution to your problems. If you're looking for dental veneers in TX, the Lovett Dental team can help. Contact Lovett Dental Jersey Village by calling 281-890-5002 today or by scheduling an appointment online.
In addition to cosmetic dentistry services, we help keep teeth and gums healthy through regular cleanings, cavity fillings, root canals, periodontal services, and other treatments. If you've put off a cleaning, don't wait any longer. We can discuss cosmetic dentistry services like dental veneers at your next appointment.