Orthodontics services are available to you from Lovett Dental Jersey Village. We're conveniently located in Northwest Houston. If you've been told you need braces or you're interested in learning how to straighten your smile, our orthodontists can provide you with an appointment and all the services you need in one convenient location. Whether you're looking to improve the look of your smile as an adult or you're reaching out for your teen or child, our orthodontists can help.
Connect with our team today at 281-890-5002 or reach out online to schedule an appointment.
When Should You Make an Appointment with Our Orthodontics Team?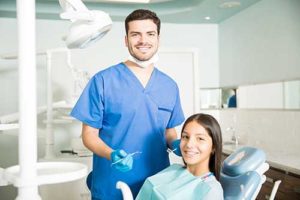 It's always best to schedule an appointment with an orthodontist any time your dentist recommends doing thorough X-rays. An orthodontist has special training and often can see problems with your teeth developing even at a very young age. When this happens, you may not know what's going on until your teeth have shifted. While we recommend coming in for orthodontics services as soon as possible as recommended, it is not just something for children.
Our team offers a variety of orthodontics solutions that may help adults to align their teeth properly. If you have:
Gaps in your teeth
Wisdom teeth that have yet to come in
Misaligned teeth
An overbite
An underbite
We encourage you to come in for a consultation. In some cases, your dentist will make a referral to our orthodontist if they think that there's an issue in the way your teeth are aligned. Let us find out what is happening and what we can do for you.
What Types of Orthodontic Services Are Available?
Gone are the days when you have just a few simple treatment options for aligning teeth. Today, we offer a wide range of orthodontics services to give you the smile you want. Here are some of those services we offer:
Traditional braces: The use of metal braces is available for those who want an affordable option that works. Braces like these are made from high-grade stainless steel. They are very durable but can be less comfortable during adjustments. Today's products are flatter and more comfortable though than other products.
Clear braces: If you do not want people to know you have braces, this may be a good option for you. These are made from a clear material that makes them harder to see. This option may be an affordable one for adults. These braces can still be very effective.
Clear aligner trays: A newer option that we often encourage through orthodontics services are clear aligner trays. These are some of the most advanced, and we're a certified orthodontist that can provide them. These are clear, but they can be removed from the mouth when you do not want them seen. They can be very effective but are also far faster in their treatment outcome.
All of these orthodontic services can be incredibly effective in improving your smile.
What Happens When You Visit the Orthodontics Office?
When you schedule a consultation with your orthodontist at Lovett Dental Jersey Village, the first step is to provide a full examination and take X-rays. The type of braces or other procedures we can offer is often dependent directly on these exams' results.
Depending on the treatment option, our team will make recommendations to you about treatment. We can review several types of braces. You can see them in our orthodontics office. Then, we can talk about the pros and cons of each, allowing you to make an educated decision about what's right for your needs.
We may make recommendations for any other services you may need at this time. This includes:
The key to remember here is that we can continue to provide good oral health care to you while you get orthodontics services. Our team encourages you to be aggressive about your oral health care.
Improve Your Smile with Our Team at Lovett Dental Jersey Village
Orthodontic services can help to give you the smile you want and the oral health you need. Don't put off scheduling your orthodontics appointments. Let our orthodontists provide you with solutions to ensure your oral health's best possible outcome. Call 281-890-5002 or contact us online to schedule an appointment with Lovett Dental Jersey Village today.