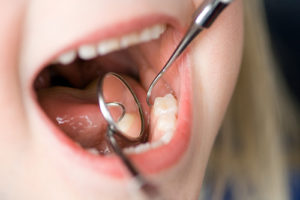 If you have cavities or another form of tooth decay, then learn about the benefits of dental fillings. Lovett Dental Jersey Village offers dental fillings and sealants. Our certified general and specialist dentists provide customized fillings to treat any cavity or similar condition. Fillings are simple, affordable, and stabilize your teeth, improving their look and performance.
The procedure is straightforward and simple and can be completed here at our Lovett Dental Jersey Village clinic. We can perform a complete dental exam, teeth cleaning, and then perform the procedure within a single sitting. To find out more about dental fillings and sealants, contact Lovett Dental Jersey Village today.
Safe and Effective Dental Fillings
Applying dental fillings to your teeth typically takes an hour. The procedure starts with a dental x-ray that allows us to assess the overall condition of your teeth. We can determine if fillings are the right solution or if you should consider other options. We also answer your questions and address any concerns you may have.
Before we fill the cavities, we will clean and numb your teeth, gums, and the support structure to reduce any pain or discomfort you may feel. From there, the decayed area of your tooth is removed using a drill. We then replace it with a tough filling that can handle daily chewing. The process only takes a few minutes.
There are several benefits of dental fillings, including:
They last up to fifteen years.
Fillings match the look of your teeth.
They stabilize and reinforce your teeth.
Fillings can prevent an infection.
You may notice an improvement in functionality.
Although we use dental fillings and sealants to correct cavities, they are also effective for applications such as teeth grinding (bruxism) or replacing a piece of a tooth that has broken off.
Types of Dental Fillings and Sealants
There are several general dentistry services available for dental fillings and sealants, including:
Amalgam Fillings
Amalgam fillings are constructed from a combination of metals, making them durable. They are the most common type of filling for patients because they are reliable and affordable. The only downside to amalgam fillings is that they are noticeable when you open your mouth or smile.
Composite Dental Fillings
Composite dental fillings consist of a combination of quartz or glass and can match your tooth color. They are ideal for smaller holes in your teeth. While not as resilient as amalgam fillings, composite fillings are more attractive and hold up well under moderate chewing.
Ceramic Dental Fillings
If you are looking for a filling that matches your teeth and resists stains, then a ceramic dental filling may be your best option. Made of porcelain, a ceramic filling is more expensive than other types of fillings. However, they are very durable and last a long time. Plus, you will love how they look when you smile.
Dental Filling Replacement
Do you have an old filling that needs to be replaced? Lovett Dental Jersey Village can remove the old filling and replace it with a new filling. Old fillings can wear out over time due to years of use. However, you don't have to live with an old filling. The procedure to replace your old filling is simple and helps with preventive dentistry.
It is important to replace an old filling so that it doesn't damage your teeth. We can assess your current fillings during your next dental exam to determine if you need a new filling. Dental fillings and sealants can restore your teeth and reduce any discomfort you have when you chew your food.
Schedule an Appointment Now at Lovett Dental Jersey Village
If you are suffering from a toothache, sensitivity, or other oral problem, contact Lovett Dental Jersey Village. We can analyze the extent of your dental issue and then provide the right treatment for you. To find out more about dental fillings and sealants, call 281-890-5002 and schedule a consultation.