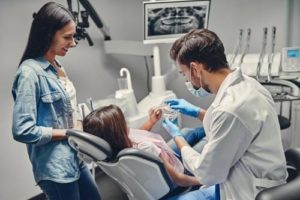 Family dentistry helps people care for their teeth at every stage of life. Beginning with a baby's first tooth, a family dentist understands what children, teens, and adults need to stay healthy. Whether it is preventative care or more advanced dental procedures, a family dentist can be a constant in your family's oral health. That consistency builds trust, which can lessen the anxiety some people experience when visiting the dentist. This is especially true for young children, which is why Lovett Dental Jersey Village offers family dentistry.
Reach out to us today at 281-890-5002 to schedule an appointment.
Pediatric Dentistry Services
Family dental services include pediatric care. When your child's first tooth erupts, it's time to start thinking about instilling good oral health habits. We recommend that you first bring your child in for an appointment at age one. Then, you can begin scheduling cleanings and exams every six months.
During your child's dental appointments, we'll check for any developing issues, like tooth decay or gum disease. We'll talk to your child about the importance of brushing and flossing regularly. Sealants can help protect your child's enamel, which can help them avoid cavities. And regular cleanings can remove plaque and tartar in hard-to-reach places.
Additionally, we'll check to see if your child needs orthodontic services. If teeth are misaligned, braces and other orthodontic services can
Our dentists and hygienists have special training in order to work with children. We work hard to ensure that every patient is as comfortable as possible. This can ensure that your child does not experience anxiety before appointments.
Preventative Dentistry
Our family dentistry services focus on preventative care. Preventative dentistry can help you avoid oral health issues down the road. That's why exams for all family members should be scheduled every six months. Some of the most common preventative dentistry services include:
Regular cleanings – Cleanings every six months can catch tooth decay or gingivitis at the onset. A hygienist can also show patients how to brush and floss correctly to remove plaque.
Regular exams – As part of regular cleanings, dentists conduct oral exams, looking for possible tooth decay and structural damage such as chipped or cracked teeth. Dentists also look for the beginning of gum disease as part of regular exams so treatment can begin before the disease progresses.
X-Rays – These can help dentists examine the roots of teeth as well as the health of the jaw.
In our family dentistry, you'll receive the care and the advice that you need to keep your teeth and gums as healthy as possible.
General Dentistry
Dental needs change with age. Wear and tear on teeth may require crowns or tooth replacements. Some patients may need mouthguards to protect teeth against grinding. Whatever the need, Lovett Dental Jersey Village can help. We offer general dentistry services that include:
We also provide cosmetic dentistry services such as teeth whitening, dental bonding, veneers, and braces. No matter what your need is or that of your family, Lovett Dental Jersey Village can help.
Specialty Services
The staff at Lovett Dental Jersey Village knows how important the trust between a family dental practice and its patients means quality care. If patients are afraid, they put off necessary exams and cleanings, often leading to more extensive procedures. That's why we offer specialty services so patients can receive care from those they trust. Among our specialty services are:
No matter what your oral needs, we have the experience and expertise to help.
Choose Lovett Dental Jersey Village for Family Dentistry
A family dental practice should be right for the entire family. From toddlers to teens, our pediatric dentists take the time to know their patients. They serve as a stable part of a child's overall health care, helping them overcome any possible fears.
As children grow into adults, Lovett Dental Jersey Village provides services that keep teeth as healthy as possible through regular checkups. We offer a wide range of general and specialty services to ensure that your dental needs are met by a provider you can trust. Whether it's cosmetic or restorative dentistry, we have expert staff to address your dental needs.
Family dentistry delivers convenience. No referrals to specialists across town. No need to repeat your dental history. Isn't it time to enjoy that level of care and convenience?
Contact our Lovett Dental Jersey Village office at 281-890-5002 or reach out to us online to schedule an appointment today. Experience our comfortable and relaxing atmosphere for yourself.