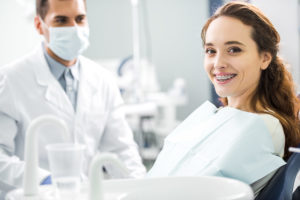 Do you avoid smiling in pictures because you don't like how your teeth look? You can improve your appearance with specialty and cosmetic dentistry services. In fact, braces are a valuable investment for anyone who has misaligned teeth. At Lovett Dental Jersey Village, we offer braces for those who are ready for a confidence-boosting smile. Braces can improve your bite and improve your oral health, too.
For dental braces and all your oral health needs, connect with Lovett Dental Jersey Village. Reach out to our team at 281-890-5002 or contact us online today.
The Three Biggest Benefits of Dental Braces
At Lovett Dental Jersey Village, we're proud to offer dental braces for adults, teens, and children. However, what benefits do orthodontics offer? First, they can improve your overall oral health. The reason is that misaligned teeth often contribute to unhealthy teeth and gums. For example, misalignment can make it difficult to floss, leading to the formation of cavities and gum disease. However, over a period of months, dental braces can align your teeth and make it easier for you to remove plaque from hard-to-reach places.
Also, braces can help people who struggle with digestion. Did you know that it's difficult for people to properly chew their food with misaligned teeth? It is, and as a result, they can end up swallowing food pieces that are too big. It takes longer for their stomachs to break down that food, which causes poor digestion. An improved bit can help your health in a number of ways.
Finally, braces can improve your confidence, which is one of the best benefits. When you don't have straight teeth, it's easy to avoid smiling in photos. You might feel self-conscious about the appearance of your smile. Thankfully, braces can correct and straighten your teeth. Your orthodontist might even be able to use dental veneers to give you the smile of your dreams after braces.
In the end, braces are a great way for people to get the smiles that they want. Best of all, your age doesn't matter. While most people think that braces are for children and teens, they can help adults too. Learn about how Lovett Dental Jersey Village's other specialty dental services improve your dental health.
Do You Need Dental Braces?
Your next step is to figure out if you need dental braces. The easiest way is to pay a visit to Lovett Dental Jersey Village. We can schedule a consultation to determine if orthodontics is the right fit for you. If you're not sure whether you need a consultation, you can ask yourself a few questions.
First, did you lose your baby teeth early in life? Often, people who lose their baby teeth too soon have misaligned teeth. That's because the baby teeth weren't there to guide their adult teeth into the correct position.
Another clue is if you have crowded or crooked teeth. Many people simply assume that their teeth are normal because they grew in that way. As a result, they never get proper treatment, which leads to oral health problems. Getting braces now can help you avoid complicated dental procedures later on.
Also, ask yourself if you are ready for the transition and to care for your braces. Braces take a lot of care and maintenance, and they can put some restrictions on the foods you can eat. If you do choose to get braces, you'll need to be prepared to:
Brush and floss regularly
Attend regular dentist visits
Avoid sticky or hard candies and foods
Follow all dentist instructions
Keep tabs on your wires, brackets, and bands
If you're ready to straighten your teeth and are prepared to take on the care and maintenance they require, braces might be the option for you.
Reach Out to Lovett Dental Jersey Village for the Smile You Want
Are you looking for an affordable dental office in Houston that accepts your insurance? At Lovett Dental Jersey Village, we provide top-of-the-line care at prices that you can afford. We also employ knowledgeable staff members who help us provide high-quality services, such as:
Dental veneers – Durable, thin shells that can improve the look of your smile
Teeth whitening services – A brighter, whiter smile can make you feel confident
Root canals – Help for painful or uncomfortable infections
Don't live with a smile that you don't love any longer. Contact Lovett Dental Jersey Village to find out if dental braces are the right choice for you. Reach out to our team today at 281-890-5002 for more information about how we can help you.