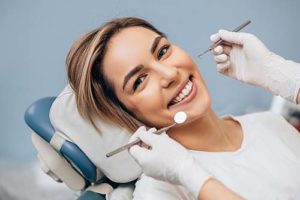 Do you feel confident in your smile? Or have oral health issues, misaligned teeth, or other problems kept you from feeling your best? At Lovett Dental Jersey Village, we offer a wide range of specialty dental services. Whether you are in need of treatments to address a misaligned bite, tooth decay, or even cosmetic issues, our team can offer the services you need. Dental pain is never any fun, and it can even keep you from enjoying life to the fullest. If you feel that your smile has to be hidden due to decay or imperfections, we'll be able to fix that as well. In no time, we'll have you smiling just like before. Our dental specialist services provide you the following types of dentistry:
The Specialty Dental Services You Need
Lovett Dental Jersey Village has general dentistry and specialty services that will cover virtually any dental need your family could have. Also, we offer the following specialty dental services to enhance and elevate your smile to the next level:
Looking your best for family photos, weddings, parties, and your career is easy with our specialty dental services. We'll take the time to listen to your concerns, and we'll work hard to provide you with an outstanding result that we know you'll love.
Specialty Dental Services at Lovett Dental Jersey Village
To research any dental specialist service issue that is of particular interest, the American Dental Association offers the Mouth Healthy website as a great tool. The site is full of interactive resources and articles from leading dental providers. The American Association of Cosmetic Dentistry also provides a great resource with their Your Smile Becomes You site.
Restorative dentistry is an expansive discipline that includes some cosmetic dentistry specialties like implants and veneers. Simple procedures like fillings are also taken care of with restorative measures. In other words, it helps to rebuild any damage to the teeth and preventative actions that can be taken to avoid future issues.
Endodontics addresses teeth that can be dealt with through preventative measures to save teeth rather than through extractions. The dentist must determine that a good prognosis is likely and that a root canal will hold up under current conditions with your oral health.
Periodontic dental specialist services at Lovett Dental Jersey Village provide help for loose teeth, gum problems, and pain in the mouth. Implants, gum disease, and pain are all issues a periodontist can provide relief for.
Oral surgeons handle extractions in a typical dental office setting. Patients are given medication to numb the mouth so that they won't feel any pain during the procedure. The surgeon may prescribe medications and at-home remedies to deal with swelling, pain, and to prevent infections.
Specialist Services for Stunning Smiles
Pediatric dentistry involves cleanings and dental services from a specialist who has education and training in childhood psychology. Our pediatric dentists are experts at putting children at ease. Their additional specialty training makes them the best at providing care in a setting that's conducive to the child's age group. This improves the child's overall comfort level and helps to relieve any dental anxiety.
Orthodontics has grown throughout the years to include patients of all ages. From aligners that aren't even detectable to braces that work in months rather than years, there's a solution for everyone. Overbites, underbites, and misalignment is a thing of the past with today's advances in orthodontic care.
Cosmetic dentistry services can give you the smile of your dreams. Veneers, teeth whitening, and even natural-looking crowns can boost your confidence. During an initial consultation, we'll work with you to understand the look you want and walk you through the services that could help.
Anxious patients do not need to fear the dentist with our sedation services. Several options are available, and the patient can work with their dentist to determine the best course of action for the procedure and level of anxiety. If anxiety about dental appointments has kept you from getting the care you need in the past, our team can help you feel better going into your next appointment.
Schedule a Consultation Now with Lovett Dental Jersey Village
Reach out today to Lovett Dental Jersey Village for a free consultation. We'll walk you through every aspect of the services you might need so you'll be able to plan for your specialty dental services. We offer discounts and coupons to save you money, and we'll be happy to help with your insurance needs to help cover the costs of dental specialist services. We have convenient appointments to suit nearly every schedule, and we offer priority appointments for emergency services. Contact Lovett Dental Jersey Village at 281-890-5002 or connect with us online to schedule an appointment today.