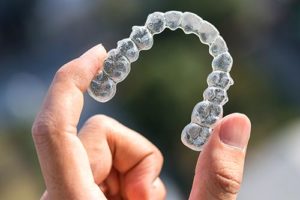 Perhaps you have always dreamed of having straight teeth, but you are looking for an alternative to traditional braces. Lovett Dental Jersey Village offers clear aligner trays. Clear aligners are one of the many options we offer to help our patients upgrade their smiles and improve other orthodontic issues like malocclusion. We also offer services to support your dental health while using clear aligner trays and beyond.
Clear Aligner Trays for Straighter Smiles
Clear aligners are the perfect option for teeth straightening if you desire flexibility. Patients enjoy having the ability to remove the popular orthodontic system's clear aligners. Once our orthodontist determines you are a candidate for clear aligners, your road to straight teeth will begin with an exam. The orthodontist will take an in-depth look at your teeth along with taking digital X-rays, photos, and impressions or digital scans. Next, your dentist will use specialized software to design a series of clear aligners that will gradually straighten your teeth. Unlike DIY aligners patients can order from home, clear aligner trays straighten all the teeth instead of the front-facing teeth only. Therefore, our invisible teeth aligners are an excellent option for most people who require a solution that corrects their bite.
Are You a Candidate for Clear Aligner Trays?
Clear aligner trays can be used to treat a variety of issues, including gaps, crowded teeth, overbite, underbite, and crossbite. While clear aligners generally work very well for adults and older teens, younger teens and children are not always good candidates because their teeth are typically still growing in. Lifestyle habits and commitment level also factor into the compatibility of Invisalign®F. The system's clear retainers are removable. However, you will be required to wear them a minimum of twenty-two hours a day. Patients must be disciplined in removing the retainers when eating and drinking, then brushing and promptly replacing the retainers. Therefore, those who are likely to have difficulty keeping up with the required regimen are likely to have more success with other orthodontic solutions. As a leading provider of orthodontics, we offer teeth-straightening devices to suit a variety of different ages, dental conditions, and lifestyles.
The Process for Using Clear Aligner Trays
The overall length of the treatment process for clear aligners varies from patient to patient. Overall, clear aligner patients require less time to achieve their desired result when compared to patients who use traditional braces. Patients who have very slight crowding issues may complete their treatment plan in as little as six months. More severe dental issues require a longer timeline. The average user of clear aligner trays is able to complete the treatment plan in approximately twelve months. In contrast, traditional braces generally require a treatment plan of approximately twenty-four months.
To learn whether clear aligner trays are right for you, schedule your consultation with one of our highly esteemed orthodontists. If we determine clear aligner trays are not the best option for you, rest assured we have more appropriate solutions to help you achieve your smile makeover goals. Our dentists are specially trained to work with adults and children to provide traditional orthodontic services as well as the latest options.
In addition to orthodontic solutions, our talented team of dentists is also available to provide:
The dentists at Lovett Dental Jersey Village are more than qualified to treat dental conditions, improve your smile cosmetically, and oversee your entire dental health regimen. Our objective is to keep you healthy and smiling brightly.
Contact Lovett Dental Jersey Village Today for Clear Aligner Trays
We aim to make our modern dental office a warm, friendly, yet professional atmosphere that is suitable for the whole family. You will experience the difference on your first visit. To learn more about orthodontics and our other dental services, contact Lovett Dental Jersey Village at 281-890-5002.