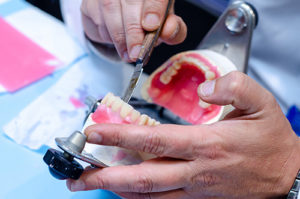 It may not be easy to decide whether you need dentures. However, this treatment is an ideal solution for anyone with warning signs of serious oral health issues. Protect your teeth and jaw by learning more about Lovett Dental Jersey Village's general dentistry options for dentures.
The Best Dentures for a Beautiful Smile
Not everyone needs to replace their teeth as they age, but doing so may improve your oral health. The best way to decide whether you need artificial teeth is to pay attention to early warning signs.
Frequent toothaches are a sign of decay in your teeth. A toothache that won't go away signals decay is affecting the nerves in your tooth. Though a root canal can save your tooth, if the tooth is seriously damaged, it may be time to consider replacing your teeth.
Swollen and red gums are another sign that you may need dentures. Swollen gums are a symptom of periodontal disease. Early treatment for gum disease includes teeth cleaning services with preventative mouthwash and toothpaste. However, if the disease is too far gone, you'll need a long-lasting solution. Replacing your teeth is the best option in this situation.
Shifting or loose teeth are another indication that you may need to replace your teeth sooner or later. Loose teeth indicate decay as a result of gum disease. The same is true with gaps between the teeth, difficulty chewing food, or missing teeth. The best action to take in this situation is to discuss the next steps with your dentist to see if dentures are right for you.
Treatment Options for Tooth Replacement and Dentures
Once you make the decision to replace your teeth, there are a few different treatment options available to you.
If you're experiencing a minimal amount of tooth decay, your dentist may recommend partial plates. This treatment option replaces a portion of the decayed teeth, relying on your healthy teeth for support. With this method, metal clasps serve as anchors for the artificial teeth. This option has a similar look to real teeth. Moreover, they prevent your healthy teeth from moving or shifting any more.
Another treatment option to consider is an immediate treatment to replace your missing teeth. While this treatment replaces your teeth as soon as possible, dentists often have concerns about how clients' gums heal. As gums may change or shift once teeth after tooth removal, adjustments help to guarantee the best fit.
Full or conventional dentures methods are the most popular option for teeth replacement. However, you can only receive this treatment after your gums are completely healed for at least two months.
While many people choose to replace their teeth, the complete denture route isn't the only option. You can get false teeth that affix to your mouth more securely via dental implants. These eliminate the need for dental pastes and adhesives to keep your false teeth in your mouth. These implants are permanently fixed to the bone in your jaw. However, this treatment isn't ideal for clients with minimal bone strength.
Best Practices for Oral Health
Though tooth replacement is unavoidable in certain situations, following best practices for your oral health will decrease the likeliness of you needing to replace your teeth. Be sure to follow proper dental maintenance by brushing your teeth two or more times a day, remembering to brush your tongue, and using fluoride toothpaste and mouthwash.
In addition to caring for your teeth, be sure to include plenty of water, vegetables, and fruits in your diet. Likewise, don't forget to visit the dentist regularly and take advantage of their services.
In addition to offering tooth replacement, dentist offices like Lovett Dental Jersey Village have client services such as:
Contact Lovett Dental Jersey Village Today bfor Dentures
If you need artificial teeth, it's important to visit the dentist as soon as possible. Rely on a qualified dentist for these essential dental services. Contact Lovett Dental Jersey Village at 281-890-5002 to learn more about all the dentures options we have for you.