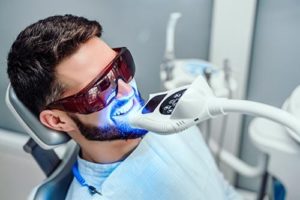 Your smile is part of the first impression that you make when meeting new people. If you've started to feel insecure about your smile due to stains or discoloration, try teeth whitening services at Lovett Dental Jersey Village. Cosmetic dentistry services provide you with a fast and effective solution to say goodbye to yellow or stained teeth for good. Through both in-office and take-home options, you can achieve the smile of your dreams.
If you're ready for the confidence boost that teeth whitening can provide, reach out to Lovett Dental Jersey Village at 281-890-5002 today.
Do You Need Teeth Whitening Services?
If you've recently looked in the mirror or have seen a picture of yourself and found that your teeth are no longer as white as they once were, you might wonder why. Regular wear and tear can lead to discoloration and staining, as can aging. However, some lifestyle choices can cause stains or yellowing. These factors can include:
Smoking
Coffee, soft drinks, and tea
Wine
Poor dental hygiene
Aging
Medications
In some cases, tooth decay can lead to discoloration. If you are in need of a filling or root canal, your dentist will help restore the health of your teeth and gums before recommending teeth whitening.
Our Professional Teeth Whitening Options
Professional teeth whitening is both safe and effective. While you may use a whitening toothpaste or over-the-counter teeth whitening products, these options might not be as effective as what your dentist offers. Our in-office teeth whitening services can be completed in only a couple of hours and can give you the results you want.
With our in-office teeth whitening services, you'll enjoy rapid results with Philips Zoom and Venus White Max products. Our dentists will examine your teeth and gums to ensure that whitening is appropriate and that it will be an effective method to produce the results you're looking for. Our dentists will also take the proper precautions if you have tooth sensitivity to avoid any potential issues during or after the whitening process.
Your dentist will apply a special gel to protect the gums from burning or a rubber guard, depending on the method of bleaching. It's important to note that chair-side bleaching is only effective on natural teeth. If you have veneers, dentures, or removable appliances, speak to your dentist about other options. Bleaching may also not work on teeth with bonding or with fillings.
Once your teeth are ready, a bleaching gel is applied by the dentist. They may use a special light to speed up the process or to enhance the whitening effects of the bleach. Most in-office procedures are fast and only need one visit. Additional visits may be in order if the staining is significant or if special precautions must be taken due to issues like sensitivity. The results can last anywhere from six months to a couple of years. Taking care of your teeth will keep them looking great. Contact Lovett Dental Jersey Village for recommended products and services that will help.
At-Home Teeth Whitening Kits
Following your dental bleaching or a regular checkup, your dentist may recommend take-home teeth whitening methods. These products are significantly more effective than products at the grocery store and drugstore. Many patients see results after just a couple of uses. Some patients can even tell a difference after the first use of the product. Proper dental hygiene such as brushing your teeth twice a day for a minimum of two minutes each time and flossing will help maintain your whitening at home.
Trays that are specially fit to your mouth increase the effectiveness of these products as they cover the full surface of your teeth. Other products, such as mouth guards or trays that you'll find online, could produce uneven results and will, most likely, not fit properly. It's recommended that the dentist provides you with professional appliances. They're a great investment that will provide you with whiter teeth for many years.
One side effect that you might experience as a result of teeth whitening is sensitivity. This should go away after several days, but if you're prone to sensitive teeth, talk to your dentist about your options. Some toothpastes can help you feel relief from sensitivity.
Contact Lovett Dental Jersey Village Now for a Brighter Smile
In addition to teeth whitening services, Lovett Dental Jersey Village offers:
A sparkling white smile can restore confidence, and it can also make you feel younger. It's easy with Lovett Dental Jersey Village's in-office and at-home teeth whitening options. We'll provide you with all the materials and education you need to keep your teeth looking great. Schedule a free consultation by calling Lovett Dental Jersey Village at 281-890-5002 today.