The idea of oral surgery can be overwhelming. Top professionals, like those at Lovett Dental Jersey Village, specialize in minimizing the risks and discomfort of such procedures. Additionally, you will be in the hands of some of the most well-respected dental professionals in the state. Read on to learn more about the different types of oral surgery and how Lovett Dental Jersey Village can help you improve your oral health.
Oral Surgery for Pain and Discomfort
There are many types of surgical procedures that improve your oral health. You could require dental surgery for any number of reasons. One of the most common surgical procedures is tooth removal. This occurs when you have an overcrowded mouth, tooth decay, disease, or some trauma. You might also require surgery for aesthetic procedures, such as bridges, crowns, and dental veneers. Some people might require more serious surgeries, such as dentoalveolar surgery, the repositioning of nerves, corrective jaw surgery, maxillofacial dental implants, or other types.
With most surgical procedures of the mouth, you can expect a few common practices. Many patients will require additional X-rays, a complete medical history, and premedication to prepare for surgery. On the day of the surgery, you can expect to avoid food and drink for hours before your procedure. It is likely you will receive some anesthesia. For some, you may have to spend a few days in a hospital if you are having major oral surgery. Additionally, you can expect to get stitches.
Benefits of Oral Surgery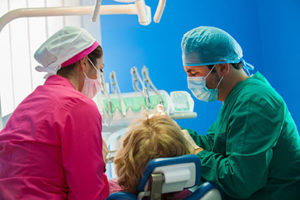 Perhaps the greatest benefit of dental surgery is that you will treat the source of your issue rather than receiving temporary solutions. While surgery may be somewhat more uncomfortable and time-consuming than basic dental care, it will provide long-lasting resolutions. Surgery can also help to prevent additional problems from occurring.
Dental surgery can help improve your overall physical health by eliminating any inflammation, infection, or disease in the mouth that could spread to other parts of the body. If you are having aesthetic-based surgery, you can expect the surgery to change your appearance. Simply the completion of such procedures can have a tremendous positive impact on your self-esteem and confidence. Overall, surgical procedures on your mouth boast significant benefits to your oral health and well-being.
Difference Between an Oral Surgeon and a Dentist
Both dentists and oral surgeons are doctors who complete up to eight years of higher education. The primary difference between an oral surgeon and a dentist is that an oral surgeon specializes in specific areas of dental surgery. To do so, they must also spend an additional four to six years in medical school to be able to perform the complex oral health surgical procedures necessary to maintain long-term oral health.
Dentists limit their services to more general dental care processes and procedures to ensure your teeth remain as healthy as possible on a daily, monthly, and yearly basis in an effort to avoid the need for surgery.
Contact Lovett Dental Jersey Village for Your Oral Surgery Needs
Lovett Dental Jersey Village is a full-stop dental care facility with top-rated dental professionals. You can complete nearly any dental procedure at this location, including:
These are only a few examples of the services we provide. Whether you are in need of cosmetic, surgical, or standard preventative care, being able to complete any essential dental procedure at the same location makes your life and the lives of those in your care far more convenient. You can even receive emergency dental services in our care.
Mouth surgery can be a less intrusive and safe process with the right dental professionals. Contact Lovett Dental Jersey Village at 281-890-5002 to discuss your oral surgery options and schedule an appointment.