A dental exam is one of the best tools you have for reducing dental health problems. While some people may feel anxious about visiting their dentist for dental exams, we can assure you they are very safe and very effective at improving your smile and keeping your oral health in good condition. A routine dental exam should be completed at least one time every six months. If you need a dental exam, contact Lovett Dental Jersey Village at 281-890-5002 today.
Why Is a Dental Exam So Important?
A dental exam is an opportunity for your general dental care provider to take a look at what's happening in your mouth. This is an opportunity to detect problems and to provide solutions before they become severe or cause concerns for you. For many people, a dental exam is one of the best tools they have for warding off gum problems, tooth decay problems, and issues with cavities. Our professionals will let you know exactly what is happening during your dental exam to ensure you know what to expect for treatment if you need any.
What Happens During Dental Exams?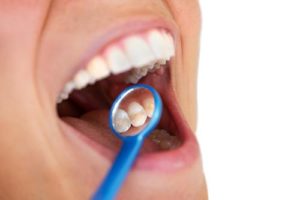 During dental exams, your dentist will tell you what he or she is doing before doing so. That's important because it can help to minimize the risks of fear and anxiety that some people have. Though each appointment is a bit different, you can expect the following to occur during your routine dental exam:
A visual inspection of your mouth including all soft tissues and structures
X-rays, depending on when you had the last ones
A general tooth cleaning to remove surface material and plaque
An oral cancer screening
In addition to this, your dentist will talk to you about any concerns they see. For example, if you have the start of a cavity, they may recommend treatment for it. You may also talk to you about gum health and any concerns you may have over time.
What Can You Expect from a Dental Examination?
Your routine dental exam is an opportunity for you to talk to your dentist about all of your dental health needs and concerns. You can expect a dental examination to take a few minutes to an hour to complete, but you can ask all of the questions you have at this time. We encourage you to talk to us about:
Dental health problems you know you have
Preventive dental procedures that may help you
Cosmetic procedures you may want such as teeth whitening or bonding
Teeth straightening needs you have
The need for dentures or implants down the road
Invest a few minutes of time learning from your dental team in Texas. Our professionals are not only there to provide a tooth cleaning, but also to answer your questions and provide recommendations to you on how to improve your oral health long term. A dental exam is an excellent opportunity for you to see the results you want – a smile that is strong and healthy.
When you are in for a routine dental exam, you can expect our team to be able to help you with consistency. That can help to minimize the onset of problems down the road for you.
Schedule Your Appointment by Calling Lovett Dental Jersey Village Now
Are you ready to come in for a dental exam? Our team is here to help you with comprehensive dental exams available to fit your schedule. A routine dental exam is one of the most important investments you can make. The good news is a dental examination like this, completed every six months, may help to minimize other dental problems down the road. All you have to do is to call Lovett Dental Jersey Village in Texas now at 281-890-5002 to schedule one.