Having a healthy-looking and functioning smile is something you can count on when you work with our team at Lovett Dental Jersey Village. Restorative dentistry is one of the general services we offer to help make that possible. Our team will work closely with you to ensure you always have the smile you desire or one that's even better than what you've ever had. Take a closer look at the restorative dentistry services we offer and find out why dental restoration is more within reach than you expect.
What Is Restorative Dentistry and Why Does It Matter to You?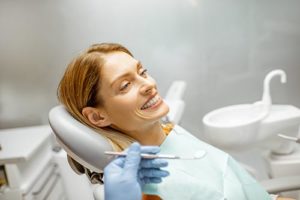 The use of restorative dentistry services is meant to help improve your smile. For some people, this means fixing damaged teeth or replacing missing teeth. It may involve adding artificial teeth to significantly improve your ability to chew and speak. Your needs are always accommodated with customized treatment options.
When you invest in dental restoration, you may see numerous benefits:
You can chew and bite with confidence
You may feel more confident in your smile
It's possible to delay or prevent the onset of complicated dental health problems
You can speak more clearly
The specific benefits you will see from dental restoration are really depending on what type of work we do for you. The good news is that our team can offer solutions for just about any situation.
What Restorative Dentistry Services are Available?
It's always best to have a customized treatment plan created for you after x-rays and a treatment plan are created. Our team may recommend some of the following restorative dentistry services for you when you see us in our Texas office.
Dental Implants
If you have one or more missing teeth, it may be beneficial to have a dental implant installed. Your oral surgeon will place these into the jawbone. There, they become very strong and durable much like a tooth root. A fixture is added to them and then a crown is placed on top. These will last for decades and provide you with a very strong tooth to bite and chew with for that time.
Dental Crowns
Crowns are one of the most versatile solutions we have for improving your smile. We may recommend them for needs such as:
Filling in a gap between two teeth using a bridge
Covering up an existing damaged tooth to prevent further damage
Capping off a dental implant to create a very realistic tooth
Crowns are durable but they are also very natural looking. They feel and look just like a natural tooth. They are even colored to match your other teeth.
Dentures
Some people have numerous teeth that have been lost due to disease or decay. Once your gums heal, we'll talk to you about dentures. Traditional dentures are available and newer products are more versatile and easier to use. You may also benefit from implant-supported dentures. These are more durable and offer both a permanent or a removable option.
Veneers
Another type of restorative dentistry treatment is the use of veneers. Unlike other types of dental restoration, this one is more for visual improvements. Veneers are films placed on the teeth to hide discoloration or damage. As with all of our restorative dentistry services, they are designed to be long lasting.
Ready to Restore Your Smile? Call Lovett Dental Jersey Village Today
Our restorative dentistry team is waiting to help you. If you are ready to use some of these restorative dentistry services to improve the look and function of your smile, our team is ready to help you every step of the way. Dental restoration is just one of the many ways we can help you. To learn more, contact Lovett Dental Jersey Village in Texas today for an appointment at 281-890-5002.