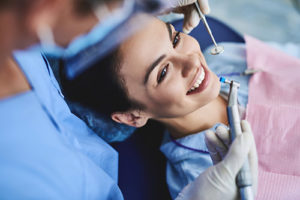 When bacteria remain on the tooth and gums for extended periods, it can form what is known as plaque. Plaque is sticky and produces an acid that is harmful to teeth and gum tissue. When plaque is left unchecked, it can erode the enamel on your teeth, resulting in cavities. Getting fluoride treatments can reduce the negative effects of bacteria on your teeth.
Ask about getting a fluoride treatment during your general dentistry visit to Lovett Dental Jersey Village.
Effective, Safe Flouride Treatments at Lovett Dental Jersey Village
Fluoride, a naturally occurring mineral in water and food, offers protection for your teeth. More than seventy years ago, researchers learned that people who drank water containing fluoride had significantly fewer cavities than individuals who did not consume water with fluoride. As a result, in many communities, fluoride was added to the water supply and has proven to decrease the risk of tooth decay.
Many municipalities add fluoride to their water. If you live in the city and drink tap water, your teeth will be exposed to some fluoride. Toothpaste also contains fluoride. If you get a fluoride treatment at Lovett Dental Jersey Village, however, you will find treatment administered at a dentist's office to be more effective for preventing cavities and gum issues. That is because the fluoride treatment provided by a dentist is more concentrated.
Fluoride Prevents Tooth Decay
When fluoridated water passes over the teeth or when fluoride is applied directly to the surface of the teeth, the enamel absorbs it. The fluoride that comes from food and water benefits teeth that have already emerged. The fluoride also protects developing teeth. Fluoride provides calcium and phosphorus to the teeth. This strengthens and hardens the teeth. This hardening helps to prevent tooth decay and also prevents cavities from getting worse.
Flouride Treatments at Lovett Dental Jersey Village
If you have cavities or are suffering from gum disease, you are an excellent candidate for fluoride treatments. If you are experiencing the following, you can benefit from fluoride treatments.
Dry mouth
Eating disorders
Poor oral hygiene
Poor eating habits
Weak tooth enamel
Alcohol and drug use
Inconsistent dental care
If you are unsure whether fluoride treatments are right for you, ask a dentist during your regular teeth cleaning services. A multidisciplinary dentistry practice with any of the following specialists can advise you: pediatric dentist, orthodontist, periodontist, maxillofacial surgeon, or an endodontist.
How Are Fluoride Treatments Administered?
When administering a fluoride treatment, our dentists may use fluoride in any of the following forms: foam, gel, rinse, or varnish. The application is quick and easy, and it typically takes only a few minutes. Fluoride drops or tablets are usually good solutions for young children who may not get enough fluoride through water or food. Fluoride treatments are also helpful for children who may not brush their teeth thoroughly enough to remove food and debris that can cause cavities to form.
How Often Should You Get Fluoride Treatments?
The American Dental Association recommends getting fluoride treatments at least once per year. However, the condition of your teeth may require you to get a treatment every three to six months. A dentist may prescribe a fluoride rinse or another fluoride product for home use.
Contact Lovett Dental Jersey Village Today for a Flouride Treatment
It's easy to schedule a fluoride treatment with Lovett Dental Jersey Village. When going for teeth cleaning, you can also arrange for fluoride treatments. Also among the services that we offer are:
Dental exams and cleaning
Extractions
Crowns and bridges
Whether you need specialty dental care or fluoride treatments, contact Lovett Dental Jersey Village for treatment recommendations that will keep your mouth healthy and your teeth looking great. Get started on your journey to regular dental care by calling Lovett Dental Jersey Village at 281-890-5002 today. We will schedule an appointment to assess your dental care needs and provide you with the dental services you deserve.